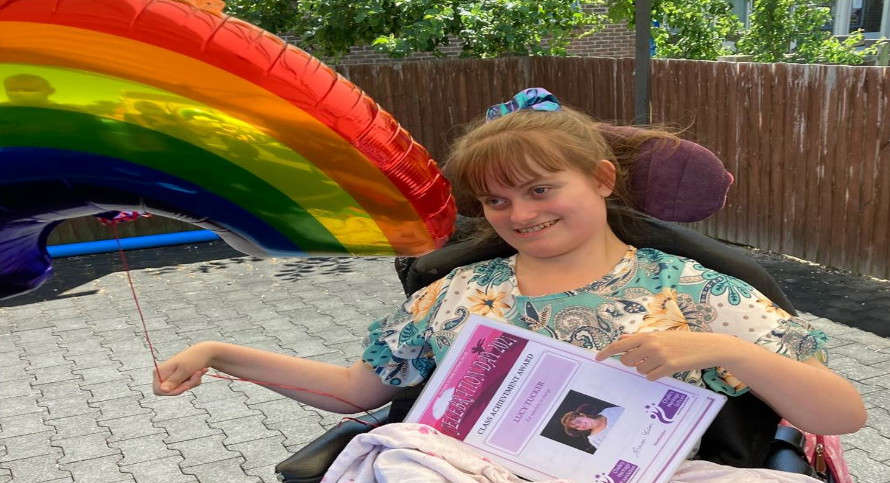 They are celebrating the achievements of the many children and young people
March is the month dedicated to the seventeen million people around the world who are living with cerebral palsy.
Chailey Heritage's Chief Executive, Gareth Germer, said: "Many of the young people here at Chailey Heritage have cerebral palsy, which is a condition that affects muscle control and movement. Around 1 in every 400 children in the UK have cerebral palsy in some form. It is usually caused by an injury to the brain, before, during or after birth. Among the main causes are a lack of oxygen to the brain or abnormal brain development. Here at Chailey Heritage, we have a team of clinical, educational, social care and engineering experts who work with our young people to maximise their mobility and ensure the best possible quality of life for them."
Lucy Tucker from Folkestone in Kent, is now 21 years old and has been at Chailey Heritage since she was 9. She has cerebral palsy, autism, anxiety and musculoskeletal problems which cause her considerable pain. Working with the team at Chailey, Lucy has achieved everything that previous experts said she never would, including being able to use her electric wheelchair and vocalise sentences to express herself.
Lucy's Dad Jonathon said: "Getting a place for Lucy at Chailey was like winning the lottery. Every aspect of her care has been supported at Chailey Heritage – having a school, medical and residential facilities in one place is a lifeline for families like ours. Lucy's wellbeing is at the centre of everything the team does and, as a result, she has achieved more than we ever thought possible."
Jonathon added: "Her powered wheelchair has given her a life-changing opportunity – it has given her choice and independence, deciding where and when she wants to go. If she had her way, she'd be driving all the way to Haywards Heath in her electric wheelchair, holding up all the cars behind her on her way!"
The dedication Lucy has received at Chailey Heritage has also helped to unlock her personality. Working with speech and language specialists, she can now use sentences and facial expressions to communicate everything from being in pain to having a joke with the team.
Lucy is now building on her skills and has made a successful transition from Chailey Heritage School to Futures, the specialist residential service provision provided to young adults ages 19 to 25 at Chailey Heritage. Lucy also accesses regular sessions at the on-site Leisure and Skills Centre (LSC), such as drama, cooking and music and she continues to make great progress, whilst having a lot of fun!
Michelle, who supports Lucy, said: "Since Lucy has been at Chailey she has grown up considerably – she has learnt to manage her behaviour and anxiety a lot better, and she is encouraged to do things for herself and make her own choices. With the help of the incredible team at Chailey, she has shown that so much can be achieved. Her determination to get the best out of life despite her cerebral palsy is an inspiration. We are immensely proud of her."
To mark the Cerebral Palsy awareness month, Chailey Heritage Foundation will be launching The Amazing Chailey Challenge which will run from the 21st – 27th March. During that week, the charity is inviting everyone to challenge themselves and choose a challenge based around the number 7 and help raise vital funds to help support many of the unique facilities at Chailey. From running 7km to making 7 cakes.
To find out more and to join the challenge please visit: https://amazing7.chf.org.uk/
Or if you would like to sponsor the young people at CHF taking part in the challenge, please donate here https://www.justgiving.com/fundraising/amazing-7