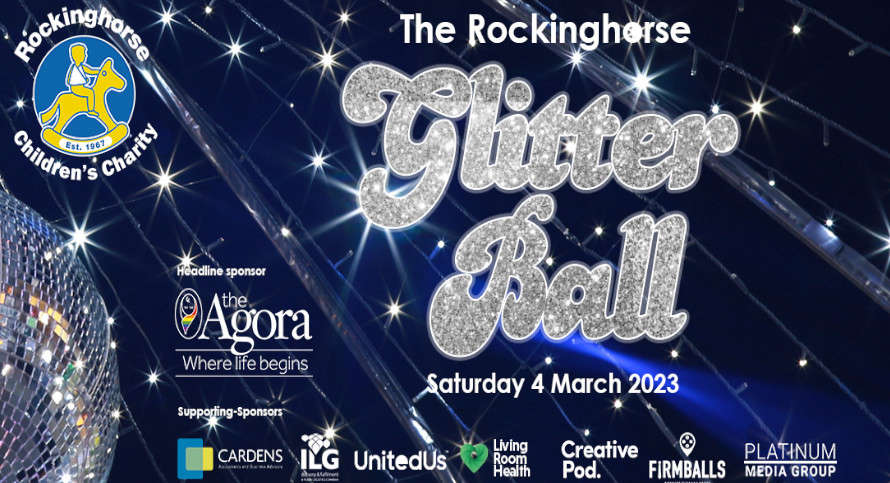 Rockinghorse Children's Charity announces their next fundraising ball, taking place at The Grand Hotel in Brighton.
The charity will be hosting its major fundraising event of the year at The Grand Hotel in Brighton on Saturday 4 March 2023. The Glitter Ball will be sponsored by The Agora Clinic along with Cardens, ILG, United Us, Living Room Health, Creative Pod, Firmballs and Platinum Media Group.
After last year's incredibly successful event, it's a welcome return for the ever-popular ball, the most important in the charity's yearly fundraising calendar.
Rockinghorse is best-known for its work with the Royal Alexandra Children's Hospital and Trevor Mann Baby Unit in Brighton, but they also support the Special Care Baby Unit in Haywards Heath and many other children's centres and paediatric services across Sussex.
Next year's ball will be raising money to help babies, children and young people throughout Sussex with a range of specialist equipment and support.
The charity is hoping that there will be a keen interest amongst their supporters to come along to the ball, especially after the success of last year's event that raised £59,000 to help support children and young people with their mental health.
Donna Holland, Rockinghorse CEO, said: "Our annual Ball provides a wonderful opportunity for supporters to come together and enjoy an evening of entertainment, whilst also helping us to raise vital funds. We're can't wait to welcome everyone to our fantastic glittery evening at the Grand Hotel.
"I'd like to thank our headline sponsors The Agora Clinic for kindly supporting our Ball, and extend our thanks to our supporting sponsors Cardens, ILG, United Us, Living Room Health, Creative Pod, Firmballs and Platinum Media Group for helping to make the event possible."
Tickets for The Rockinghorse Ball are on sale now, and for a limited time they are available at an early bird rate of £975 for a table of 10.
To book your table or for more information, call the charity on 01273 330044, email enquiries@rockinghorse.org.uk or visit www.rockinghorse.org.uk and search 'Events'