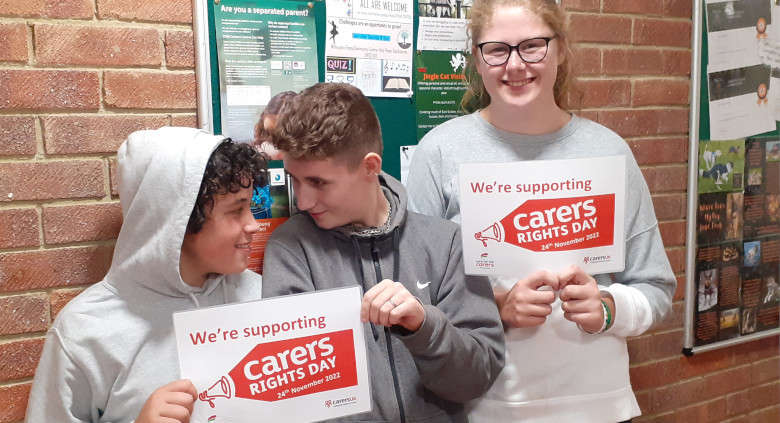 Local young carers showing their support for Carers Rights Day (L-R) Michael (11), Harrison (17) and Charley (17)
Care for the Carers is helping to raise awareness of the rights that unpaid carers are entitled to, but may not be aware of.
Carers Rights Day takes place on Thursday 24 November, and the charity are encouraging local support for the campaign.
The national campaign brings organisations together to promote the rights of everyone who looks after somebody who could not manage without their help. This can be due to ill health, frailty, disability, mental ill health or addiction. It's estimated that over 100,000 of the UK's estimated 10.58 million unpaid carers live in East Sussex.
This year's theme for Carers Rights Day is 'Caring Costs'. This can refer to the financial impact of caring, which is being felt more severely due to the cost of living crisis. Caring can also affect employment and damage relationships, whether through not being able to take time out to spend with loved ones or through changes to the relationship with those they care for.
The 2022 Carers Annual Survey shows 92% of carers in East Sussex feel alone or isolated, 99% feel stressed and 92% feel their wellbeing has been affected as a result of their caring role. There has also been an increase in the number of carers experiencing issues with their finances, with 85% of carers reporting this, a dramatic increase on the 2021 report.
Jennifer Twist, Chief Executive from Care for the Carers says: "Many carers are telling us that they are struggling. Many are undertaking increasingly complex caring roles, feeling isolated and are disproportionately affected by rapid increases in the cost of living. We want carers to know that they are not alone, that they have rights and that there is support available.
On the 24th November we are asking everyone to show their support and help raise awareness of Carers Rights Day. If you are a carer, we are here to support you so please do get in touch."
Jennifer will be joining Peter on East Sussex Today on Thursday morning.