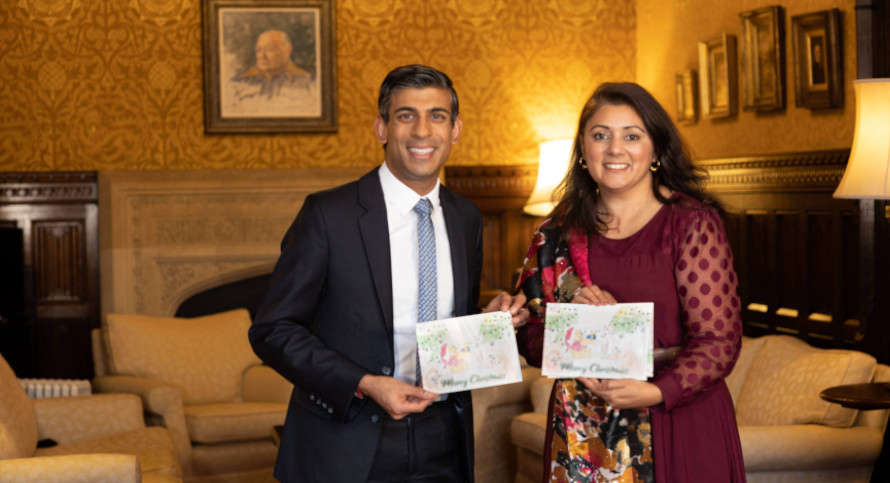 It's a yearly tradition in Wealden
Nusrat Ghani, MP for Wealden, is launching her 2023 Christmas card competition and is inviting all primary school pupils in Wealden to take part.

All primary school pupils in Wealden are being invited to participate and submit an entry following the theme 'Winter Wildlife in Wealden'.

The winning design will be featured on the front of Nusrat's Christmas card, and two shortlisted entries will also appear inside the card. The card will be delivered to hundreds of people across the constituency and nationwide, including the UK Prime Minister and His Majesty King Charles III.

The drawings can use any 2D medium (pencil, felt tip, crayon, paint etc.) and should be completed as A4 format, either portrait or landscape. The design must be an original piece of work completed entirely by the pupil.

Please post all entries to the competition to: Nusrat Ghani MP, House of Commons, London, SW1A 0AA and ensure that every submission has the child's full name, school, and class or year group written on the back.
The closing date is Friday 3rd November 2023.

Nusrat Ghani said: "The Christmas card competition has been a highlight of my seasonal activities since its first launch in 2015, and I hope that it will bring a little early Christmas cheer to Wealden pupils. The winning design will be featured on the front of my Christmas card, and two shortlisted entries will also appear on the inside. I am always impressed by the quality and creativity of the entries and the bar is set high by last year's winners from Blackboys CE Primary School, Cumnor House Sussex School and Nutley CE Primary School. I look forward to receiving this year's entries by Friday 3rd November."