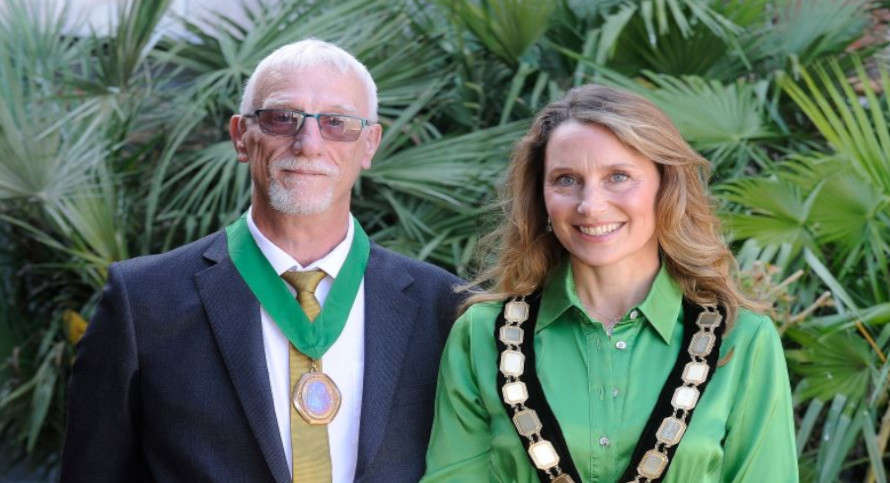 A new chair and vice-chair have been appointed at Wealden District Council.
At a Full Council meeting on Wednesday 24 May, newly elected Green Party councillor Christina Coleman, who represents Danehill and Fletching ward, was appointed chair and the vice-chair named as Liberal Democrat councillor Gavin Blake-Coggins, who represents Hailsham East and was recently re-elected as a councillor.
Councillor Coleman replaces Councillor Ron Reed, who was not re-elected at the recent elections, and Councillor Blake-Coggins replaces Councillor Angela Snell, who did not stand for re-election.
New council leader, Councillor James Partridge proposed both councillors during the meeting.
Councillor Partridge said, "Christina has lived in Wealden for 20 years and brought up her family here. With a background in advertising and fundraising, she is involved in many things including teaching dance in a local school and informing young people in sixth form colleges about the climate and biodiversity crisis.
"She won a high distinction in her Master's Degree from the University of Sussex in Environment, Development & Policy and has since been involved in research for both the University of Sussex and the School of Oriental and African Studies. She was an environmental advisor on a sustainable roundtable with The Right Honourable Michael Gove at the Department for Levelling Up, Housing & Communities.
"I am sure she will be a marvellous ambassador for Wealden and this council. "Gavin is well known to many. He has lived in Hailsham for a very long time along. He has many strings to his bow and in his time was one of only 23 people in the country qualified to design deliver and implement professional qualifications in the NHS.
"He has worked tirelessly for his Hailsham community and is a very experienced and knowledgeable councillor having served at county, district and town level. I am sure that he too will be a marvellous ambassador for Wealden and this council."
The high standing of the chair of the council is one of honour and dignity rather than actual legal powers with the chair expected to attend many formal and informal functions including royal and state visits, civic ceremonies and functions, charity and community events.
Other functions of the politically neutral role is to chair Full Council meetings and act as an ambassador to promote the council's name at home and elsewhere.
Following the elections earlier this month, Liberal Democrat and Green Party councillors on the council reached an agreement to form the Alliance for Wealden, a cross-party co-operative group that will run the council for the next four years.
The new leader of the council is Liberal Democrat Councillor James Partridge and the deputy leader is Green Party councillor Rachel Millward. The leadership will rotate annually between the two group leaders.