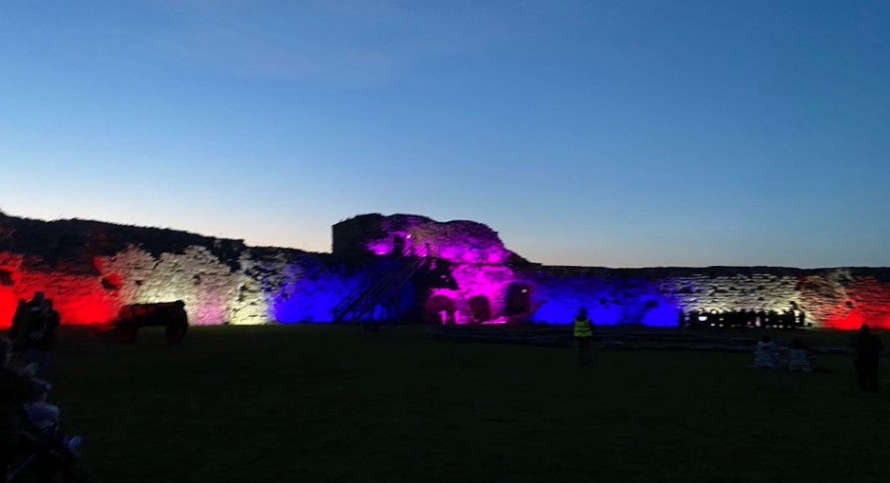 Pevensey Castle was the setting for a celebration to mark the Queen's Platinum Jubilee during the Bank Holiday Weekend.
The event was hosted by Wealden District Council chairman Ron Reed and among those attending was the East Sussex Lord-Lieutenant Andrew Blackman and representatives from charities and organisations, which supported the community during the Covid-19 pandemic.
Guests enjoyed music from the Eastbourne Silver Band and South Downs Singers as well as light refreshments and illumination of the Castle walls in red, white and blue.
The official bugle call Majesty was played along with the Song for the Commonwealth.
Councillor Ron Reed said the event was to thank members of our community – known as Covid Heroes - who worked hard to support others during the pandemic lockdown as well as local charity volunteers.
They included representatives from Hailsham Foodbank, You Raise Me Up, Cuckmere Support Network, Daniel Brookbank, Forest Row Community Fridge, Wealdlink Community Transport, Pevensey Town Trust, families representing the Children's Respite Trust, East Sussex Hearing and Happy to Help, Heathfield & Waldron.
Councillor Reed said, "It has been a pleasure to thank those Covid Heroes at a time when we are also celebrating the unique milestone in our history of Her Majesty the Queen in her 70th year as our Monarch and Head of the Commonwealth, and her Platinum Jubilee.
"I would like to thank all those who attended and took part in making the event such an enjoyable and successful one."
A raffle was also held during the event and raised £266, which will be divided between the chairman's chosen charities - Dementia Singing Experience Sussex and the Children's Respite Trust.