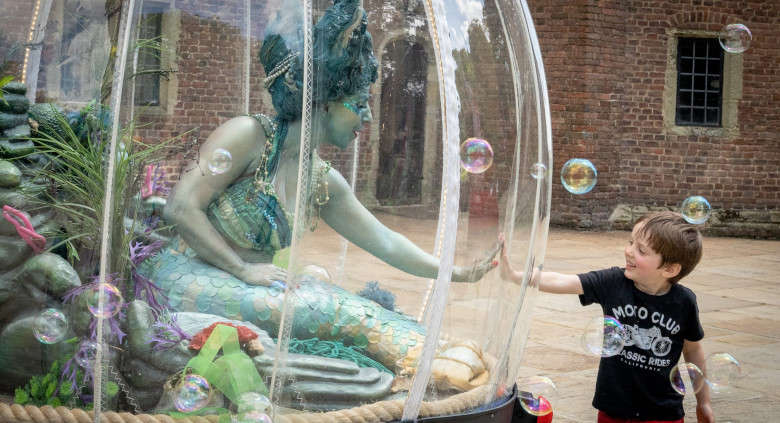 Each weekend in March, there will be fun for all the family on our local high streets.
Free street theatre events will be taking place across Wealden to help promote our town centres:
Friday 3 March - 4.30pm
St George's Hall, Polegate
Hulla Balloony Moon Time! Little children will feel the magic at this riotous, zany show. 45 minutes of cakey fun, puppets and a dance with the moon. Based on 'Pat-a-cake Baby' by Joyce and Polly Dunbar, with music and songs by Tom Gray.
Saturday 4 March - 11.30am
Crowborough Town Centre
Salana the seal and Marina Mudflat the marine biologist and an Enchanted Flower Globe- Say hello to beautiful Floris in her miniature world, brimming with butterflies, flowers and spring colours. Not to mention The Wardens – empowered with the jurisdiction to enforce any rule or law they see fit. Watch out or you may end up with a ticket!
Saturday 11 March - 11:30am
Hailsham Town Centre
An interactive, unforgettable, spell-binding act, an enchanting mermaid, the world's first (and only) shopping trolley dance display team and Dolly Delicious will be towering above everyone.
Friday 17 March - 4.30pm
Union Church Hall, Heathfield
Woodland Tales puppet show – there is something is happening in the woods, Laura the ladybird, Jeffrey the spider, Brett the Woodlouse and Willoughby the Woodpecker are worried.
Saturday 18 March - 11.30am
Uckfield Town Centre
Yeshe the Yak who is very fond of children who carefully stroke his nose, a mermaid who will glide through the town in a bubbling, shimmering underwater world and many more acts will end the week.
All events are funded through Wealden District Council's Shared Prosperity Fund from the Department of Levelling Up, Housing and Communities and are being delivered by events company 18 Hours.
For full details on each event, visit the Explore Wealden website.