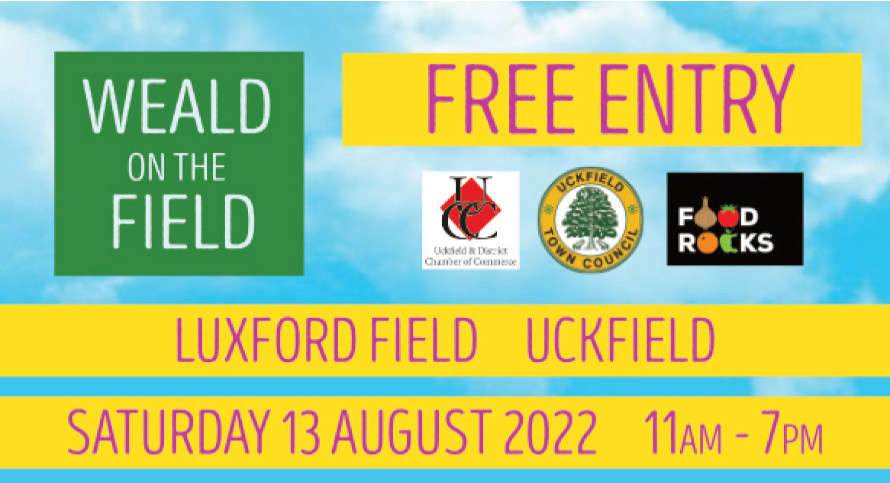 Weald on the Field takes place on Luxford Field, Uckfield on Saturday 13 August from 11.00am until 7.00pm.
This fabulous event is fun for all the family with local artisan crafts and food, street food, and pop-up bars. Add to that children's entertainment and live music from local bands and you have a great day out for all the family.
Food and Drink
For a taste of some of the food available we will have Thai, Greek, German sausages, pulled pork as well as burgers and pizza. And you can wash it all down with Harveys bitter, gin, rum or wine from local vineyards. There should be something to please everyone.
Fun for all the family
In addition to the food and drink there are numerous attractions to keep the children amused. We have The Creation Station, Sand Art, the Teacup Ride, Uckfield Theatre Guild and Carnival Toys coming along too so lots for those little ones to do.
Live Music
The live music begins at 12noon and should offer something for everyone. Local performers include Pentacle Drummers, Megan Tweed, The Management Duo, Iron Tyger, Fat Freddie and the Queens and headlining our event is Max White and his Band.
Free Parking
Along with the free parking in Luxfords car park there will also be free spaces at the station car park courtesy of APCOA and Network Rail.
An event definitely not to be missed!