Shrek The Musical - Congress Theatre Eastbourne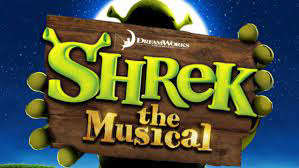 We had a brilliant time watching Shrek the Musical at The Congress Theatre in Eastbourne.
Ryan had never seen the movie before, but had a rough idea of the storyline which was good and he was informed by Rachael that the script followed almost identically.
They both loved hearing the classic lines and the silly humour. They found it hilarious how Shrek was introduced....but won't spoil it for you! I'm sure you can guess... the set even had a realistic looking out house!
Speaking about the set, you can't ignore how flawlessly it flowed, everything was spot on and ran without a hitch. You will be constantly engaged watching the projected curtain as they speedily transition between scenes.
Our favourite scene was the iconic Gingerbread man in the dungeon, "Do you know the Muffinman!?" scene. We had a good laugh and the cast were hilarious throughout, particularly James Gillan as Lord Farquaad who put his own spin on the character, bringing him to life. Throughout, the cast genuinely looked to be having fun, bringing their respective roles to life with enthusiasm and vigour. We loved Fiona, the dragon, Shrek and all the classic characters but Donkey was the real star of the show.
Donkey was perfectly cast and Eddie Murphy himself would have been proud as the actor, who in our opinion, nailed the role and delivered an outstanding performance. The timeless line: "My mouth was open and everything!" was delivered with perfect comic timing by Brandon Lee Sears.
The man of the moment Shrek (played by Antony Lawrence) was also fantastic, he nailed the accent and had the perfect stature for one of the most well known animated characters of all time. Oh, and he's got a fantastic voice too, bellowing out a good few numbers along with Fiona (Joanne Clifton). Look out for the scene inside the tower where we see Fiona of various ages singing. It was done really well!
The final sing song really deserved the standing ovation it received with the classic 'I'm a Believer' performed by the full cast.
Shrek The Musical runs until Saturday 18th November at The Congress Theatre. Tickets can be booked by calling the Box Office on 01323 412000