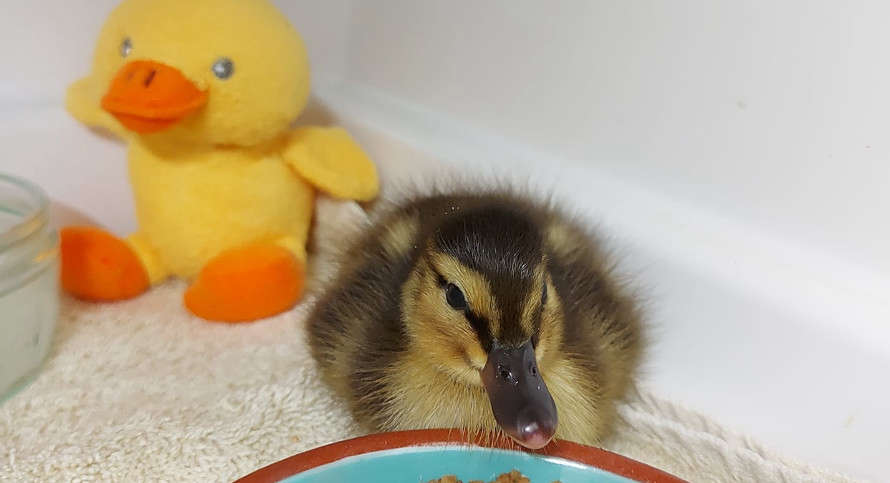 A Duckling rescued in Maresfield
They have been dealing with baby birds and mammals
East Sussex Wildlife Rescue & Ambulance Service (WRAS) has seen a doubling of rescue calls over the past couple of weeks in the usual acceleration of spring time rescues
This has included the charities first baby duckling rescued after reports of a mum and duckling wandering along the A22 at Maresfield on Friday 8th April. Despite a search of the area only one duckling could be found. The little bird is currently on his own with a toy duck and mirror for company till we have more suitable friends coming in for him to join up with. WRAS rescuers also rushed to Hailsham on Tuesday 12th April after a mum and ducklings were seen wandering around the Anglesey Avenue estate in Hailsham attempting to get to the pond at Farne Close. Rescuers had to escort the mum and duckling through the estate to safety.
The charity's Orphan Rearing Team has started working in the recently expanded Monica Russell Orphan Rearing Unit within the hospital. A number of baby blackbirds have already been admitted and are being hand reared.
WRAS's Care Team are also looking after several fox cubs including one rescued after being trapped around its neck down the side of a shed in Hailsham on Tuesday 12th April. The cub was difficult to rescue and almost died at the scene but rescuers managed to keep the cub alive and he is now in an incubator being closely monitored. Another fox cub was rescued in Bexhill on the evening of Monday 11th April after being found in a poorly state in the High Street. Another fox cub was admitted after being caught by a dog. A litter of 5 fox cubs were reunited with their mum after being handed in to Highcroft Vets in Hailsham after being disturbed during building works. Rescuer were able to return them that evening where mum returned within 30 minutes and collected them one by one and moved them to a new home. Another two fox cubs came in after the council were clearly away an abandoned and overgrown car and didn't realised that a vixen had given birth inside. Sadly despite attempts to reunite these cubs with mum, she never returned.
WRAS has also been busy with nestling pigeons and doves mainly falling from nests after trees and bushes are cut back or cut down, resulting in the nests being destroyed.
April has really seen an increase in calls which have included being called to a swan with blue rope round its body at Princes Park in Eastbourne; a seal on the beach at Eastbourne Seafront opposite the Grand Hotel; a gull entangled in football goal netting by Lewes Priory; a cormorant which is believed to had a collision at the Water Front at Sovereign Harbour Eastbourne and a hedgehog caught in a rat trap which had to be cut free. Due to the way in which the hedgehog was pinned down the hedgehog had to be monitored for a while before it could be released again. A Buzzard was found on the ground in a garden at Waldron unable to fly and with blood under its wing. The wing was very bruised and had a small wound. After just 10 days of care and treatment the Buzzard was suitable for release back to the wild. WRAS rescuers have also dealt with a deer entangled in electric fencing at High Hurst Wood which was successful released too.
East Sussex Wildlife Rescue & Ambulance Service (WRAS) is an award winning community charity which dealt with over 4800 casualties last year. During the peak of the busy season which lasts from April through to September the charity can deal with almost 1000 casualties per month. The charity relies on donation to fund its work. So far WRAS's casualty numbers have been the highest ever for January and February.
WRAS is only a local charity which helps people who find sick, injured, orphaned and trapped wildlife in need of help. The charity has over 150 volunteers and a dedicated team of staff who work exceptionally hard and dedicate their lives to helping the local wildlife of East Sussex.
The charity is gearing up for a busy spring and summer season which is likely to be even more expensive than normal due to huge increases in the costs of fuel and food. The charity is asking anyone who can help to either making a donation or set up a standing order by downloading a form from their website at www.wildlifeambulance.org, where single donation can also be made.
Reg Charity 1108880. East Sussex WRAS is registered with the Fundraising Regulator.