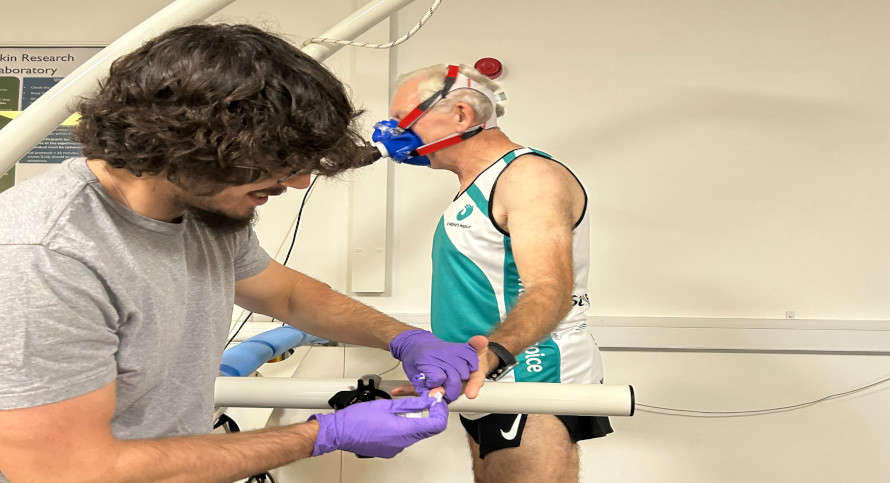 Two University of Brighton Masters students have been helping 70-year-old Eastbourne runner Neil Kirby to achieve peak condition in advance of his treadmill marathon world record attempt on Saturday 26 November.
Neil, who had a full hip replacement only two years ago, is hoping to mark his 70th birthday by becoming the first person over 70 to complete a marathon on a treadmill. He will be making the attempt outside the Langham Hotel – which Neil owns – on Eastbourne's seafront from 10am on Saturday.
Neil completed his first marathon in 1981 at the age of 29. Over the span of the last 41 years, he has completed 50 full marathons and 211 half marathons, with personal bests of two hours 53 minutes and one hour 17 minutes, respectively.
To prepare himself for this latest challenge, Neil worked with students at the University of Brighton's Eastbourne campus to complete a range of physiological and strength and conditioning assessments and to gain experience on the treadmill. The sessions took place at the Welkin Physiology Laboratory and the Ward Hall Teaching and Research Gym.
Oli Georgiou, studying for a Strength and Conditioning MSc at the University of Brighton, and Anya Gough, also studying in Brighton's School of Sport and Health Sciences for an Applied Exercise Physiology MSc, were among the team testing Neil's lactate threshold, running economy, lung function, body composition and functional movement.
Oli said: "The lactate threshold test was the most important regarding his marathon training as it showed us which speed Neil can maintain without accumulating too much lactate. This informed us what speeds he should train at to improve his marathon time and also gave us an insight into predicting what time he will complete the marathon."
The whole experience had been extremely valuable, Oli said: "Neil is a nice man with some amazing stories, and the testing experience was extremely beneficial for me to put the theories into practice whilst giving me the opportunity to practise my soft skills as a practitioner."
Neil said of the team: "They were so helpful in monitoring my heart and checking my breathing and bloods. They found my strengths and weaknesses. It's improved the way I run, especially on the treadmill as it's not the same as running on the road, but also my breathing and my pace."
He added: "This is my fiftieth marathon – I'm not a novice – but I needed the team's help to guide me on a treadmill because you can get carried away and go too fast. People may think it's easier on the treadmill but let me tell you it's harder than it is running on the road or running on the hills."
The team will also be monitoring Neil's running pace, heart rate and nutrition throughout the world record attempt to keep him on track for his goal completion time of four-and-a-half hours.
Anya said: "This is one of the first projects of my Masters degree. It has been a really enjoyable experience and it has been amazing to help Neil try and achieve this goal and raise as much money as possible for an amazing charity."