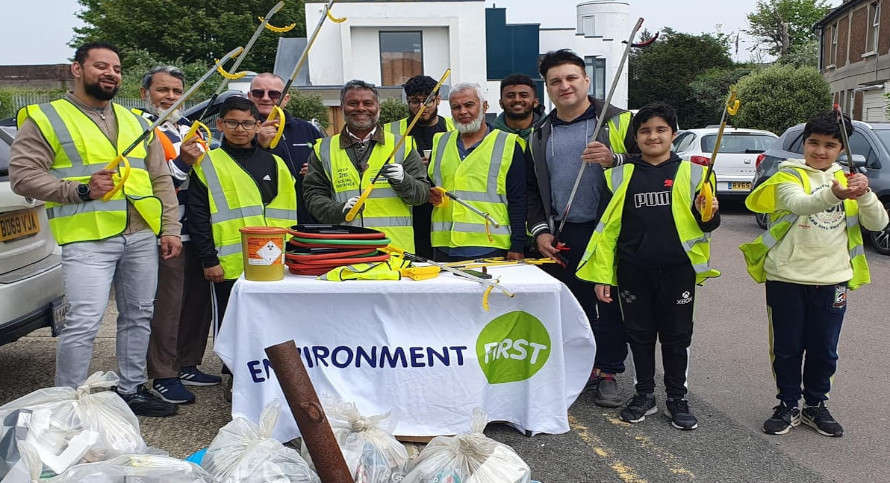 The town's Muslim community joined with members of Eastbourne Borough Council's Environment First team (pictured) to clear litter in the town centre.
Parents, children and refugees living locally in the town collected 10 bags of rubbish and one inflatable swimming pool after being equipped with gloves, bags and litter pickers.
The event was organized by Mozmil Hussain behalf of the local Muslim community and served as a great opportunity for volunteers from all walks of life to gather and make a difference in their town.
Dr Hasan Gilani, from the Muslim community in Eastbourne, said: "By actively participating in initiatives like these, we aim to foster a sense of belonging, integration, and harmony within our society. Our kids participated in the event with the broadest smiles. They truly enjoyed the appreciation from all passers-by as they are learning how to be responsible citizens. There are many more such events to come soon where we would like to work with the local authorities and the community to create positive vibes of peace and well-being."
With a shared determination to cover as much of the town centre as possible, the volunteers visited Ashford Square, Junction Road, Cavendish Place, Susans Road, Tideswell Road and Ashford Road.
Councillor Colin Swansborough, Cabinet Member for Community Spaces, said: "I would like to thank all those who took part and helped to make a real difference in the town centre.
"This is such a great example of cohesion and collaboration across communities and I understand more of these excellent events are planned."